UPDATE: Three from the Mint added. 
Nothing can replace live theater.
But while we find our way through this time of theatrical shutdowns, there are options for viewing work from the stage…from your living room.
I'm not talking here about movie adaptations. I'm talking about shows that were actually staged on stage and transported via cameras to your home. Or, at least, stayed true to the theater script even if played without an audience.
Here's a rundown of streaming options on where to find shot-from-the-stage gems.
(NOTE: This is a work in progress. If you know of others, let me know and I will update.)
Dive into "The Fatal Weakness," "The New Morality" and "Women Without Men" courtesy of the company dedicated to shedding new light on lost and neglected plays.
Back in the 1980s, NBC ambitiously offered live-from-the-stage dramatic productions for a short while. Among them were the 1961 Pulitzer Prize-winning "All the Way
Home," based on James Agee's great novel and featuring William Hurt and Sally Field. Amazon Prime also has Henry Fonda and Cloris Leachman in "The Oldest Living Graduate." 
Also, before there was a "Fleabag" TV series, there was a "Fleabag" play. And Phoebe Waller-Bridge's performance, filmed in 2019 at Wyndham's Theatre in London, is now available.
Not exactly fitting into the shot-from-the-stage category but of interest to buffs, there are some made-for-TV obscurities including 1955's "One Touch of Venus," the 1962
"Arsenic and Old Lace" with Tony Randall and Boris Karloff, and 1956's "Bloomer Girl" with Barbara Cook. There's also the pretty-much-taken-right-from-the-stage "Top Banana" with Phil Silvers. You can also catch 1986's "Barnum," starring a pre-Phantom Michael Crawford and Del Shores' "Southern Baptist Sissies." Amazon Prime also has James Earl Jones and Angela Lansbury in the stage production of "Driving Miss Daisy."
The Spanish-language production of "Boxcar" by Sylvia Gonzales and more are available via the link above.
You don't get to see many productions of Eugene O'Neill's "Anna Christie." Here's your chance, recorded from the stage in 2014.
Christina Ngoyi performs Mike Kenny's "Random Selfies" on a digitally animated set. Recommended for ages 7-13.
In 2005, this company set out to stage all of John Millington Synge's work … in the same day. Here's the best known of the lot, "The Playboy of the Western World."
This site-specific production of Mike Bartlett's "Contractions," a co-production with New Diorama, was shot in front of a live audience on a former trading floor.
The archives are being aired including a concert version of "Carousel" with Kelli O'Hara.
ASC is offering not just Shakespeare variants ("Midsummer 90" and "Imogen aka Cymbeline") but also it's production of Frank Galati's adaptation of "The Grapes of Wrath." Digital tickets run a minimum of $10.
The Indianapolis-based company is streaming its 2019 production of "Hamlet." 
New offerings launch each Thursday on YouTube.  Still to come: "Amadeus."
Who knew there was a musical featuring songs by Ian Dury and the Blockheads? Not I. But it exists, it was filmed from the stage in 2017, and it's available for free streaming through Aug. 3.
Tucked away in the midst of all of the animated characters and the snippets of relived high school musicals on "Encores" are the real-life actors in Broadway's "Newsies" (not to be confused with the film version, which is also available through the mouse.  Oh, and a little show called "Hamilton" will stream on July
"There is a Happiness That Morning Is" is the cool title of Mickle Maher's play, a comedy in rhymed verse, that centers on two lectures on the poetry of William Blake–delivered by a pair of professors who were caught having sex on the campus lawn the night before.
Tovah Feldshuh's performance as Golda Meir and many others in "Golda's Balcony" was captured on stage in 2003. It's now available via Vimeo in English with Hebrew subtitles.
The three Bronte sisters are the subject of the rock musical "Wasted," streaming for free.
Archived recordings of the theater productions of David Wailliam's "The Midnight Gang" and an adaptation of Beauty and the Beast are among the theater's offerings. The productions will also be captioned for the hearing impaired.
MADE AT CURVE/THEATRE ROYAL BATH
A single-camera 2017 archive recording of Joe Orton's "What the Butler Saw" is now up and running. It will be up for the duration of the lockdown.
Cheek by Jowl's modern dress 2017 production of "The Winter's Tale" is up, along with a 2015 "Measure for Measure."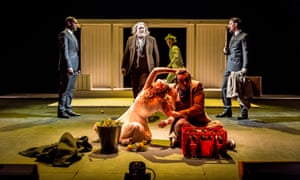 The "limited time" it's said to be available isn't specified. But, for now, you can catch Orange Tree Theatre's production of Maya Arad Yasur's play "Amsterdam," about a pregnant Israeli violinist in the title town.
Via its YouTube channel, the Stratford Festival will be streaming 12 of its productions. One will be released each Thursday at 7 p.m. and be available for three weeks. I cannot tell you how much pleasure I've had from watching all of these and have taken particular joy in catching the less-seen titles, including "Timon of Athens" and "The Adventures of Pericles." Added pleasure comes from seeing actors in various roles across multiple productions.
Not to be confused with "Hadestown," "Myth: The Rise and Fall of Orpheus" takes its own trip to the underworld via rock music.
This unique artists-run company creates what it calls "soundstage musicals." That is, musicals shot on stage but without a live audience. Actors sing live but musical and underscoring is added later. I wrote about one of its productions, "No One Called Ahead," for Midwest Film Journal.
Strap yourself in as one of the country's leading regional theater offers its epic adaptation of Roberto Bolaño's novel "2666." It's structured into five acts, each staged in its own unique style.
The Globe to Globe series is opening up a chunk of its vault for free viewings. Not only is it offering a steady stream of recent productions (include "The Winter's Tale" from 2018. Here's the direct link to the YouTube channel.
The Royal Court Theatre is offering a free stream of David Ireland's harrowing, very dark play "Cyprus Avenue' starring Stephen Rea. It mixes live performance with location shooting.
BLOOMINGTON PLAYWRIGHTS PROJECT
For a pay-what-you-want donation, this new play producer is offering 25 of its shows from 2010 to 2020, including "The Life and Times of Marc Summers," "Rap Guide to Culture," and "Spun: A Brother Sister Rock Musical." See my story about the offerings here. 
Through July 1 you can watch Folger Theatre's "Macbeth," directed by Aaron Posner and Teller. There's also a batch of special features.
Another subscription service, this one is focused more on opera and dance. However, theater buffs can find plenty of treasures. Recent additions include the 2018 "Julius Caesar" from the Donmer Warehouse and a load of Classic Spring Theatre's Company's Oscar Wilde productions including "A Woman of No Importance." The RSC and Globe Shakespeare productions alone are worth the price (and here I got to experience two productions of "Love's Labour's Lost") but if the classics don't appeal to you, there aren't many other choices. UPDATE: MarqueeTV is offering free 30 days of streaming when signing up. FURTHER UPDATE: MarqueeTV has added weekly Saturday evening premieres, which will include the Royal Shakespeare Company's "Twelfth Night."
Up for a bloody horror musical parody of "Charlotte's Web"? For something completely different, this Atlanta-based company has launched a Twitch channel that includes its production of "Scarlett's Web."
Sign up for free with your library card (You do have a library card, don't you?) for access to Satyricon Theatre's "The Seagull," Vakhtangov Theatre's "Smile Upon Us, Lord," The Wooster Groups "To You, The Birdie!", Moscow's Young Generation Theatre's "Lady with a Lapdog," and a lengthy slate of performance artists' work.
The paid streaming service features productions you may have seen on PBS or elsewhere ("Kinky Boots," "Red," "Indecent," the BBC complete Shakespeare from the 1970s/80s). But there are also recent dramas including "Pipeline," "Thom Pane
(based on nothing),"  and "If I Forget." 
Gems including the Stratford Festival's "Love's Labour's Lost" (my favorite Bard comedy–see below) and, for completists, "King John." You'll also find oddities such as the West End musical version of "From Here to Eternity" (lyrics by Tim Rice) and a slate of Spanish-language plays.
More? "On the Exhale" with an intense Marin Ireland. "Buried Child" with Amy Madigan and Ed Harris.
For £9.99 a month, the British streamer offers Zoe Wanamaker and David Suchet in "All My Sons," the Regent's Park production of "Into the Woods," the revival of "Funny Girl" with Sheridan Smith (which I wrote about here), Tricycle Theatre's "True West," and Royal Shakespeare Theatre productions of "Twelfth Night," "Macbeth" and a post-apocalyptic "Troilus and Cressida."
One-time-only, live readings of plays are on the menu for this site, with proceeds from all events will be directed to arts organizations impacted by the COVID-19 virus. Check out the link above for the schedule.
With a PBS membership, you can see Danielle Brooks in the delightful Public Theatre
production of "Much Ado About Nothing," Laura Benanti in "She Loves Me," Kelli O'Hara in "The King and I" and more.
If you are in the NYC viewing area, you are in luck. WNET's outstanding Theatre Close-Up series has recorded productions of such shows as "School Girls; or, the African Mean Girls Play," Richard Nelson's Gabriel family trilogy, "The Originalist," "Buyer and Cellar," and a breathtaking "Uncle Vanya" starring the great Jay O. Sanders. Some of their recordings, including "On the Exhale," have found their way to other services. Here's hoping more do as well.
Does "Springsteen on Broadway" count as a theater production? I say yes. But there's more here, too, if you look deep.–particularly if you like shows focused on a name entertainer or two being themselves. Among the choices: John Leguizamo's "Latin History for Morons," "Steve Martin and Martin Short': An Evening You
Will Forget For the Rest of Your Lives," and a bunch of Mike Birbiglia one-man shows including his recent "The New One." (I'll let others debate the difference between these and stand-up comedy specials.) Want a fuller stage? Netflix also has the Broadway production of "Shrek," 
I'll let others argue the difference between opera and musical theater. For now, let's just agree on the coolness of the Metropolitan Opera streaming a different opera every night on its website, www.metopera.org.
The German company, which premieres at least ten shows a season, is opening up its archives for online viewing. Productions include "Hedda Gabler," "Peer Gynt," and "Art." Most on the content will have subtitles.
From the site: "During the suspension of our performances we offer an online substitute programme that includes TV recordings of productions from all decades, from the founding to the present day. The programme will be available daily from 6.30 pm until midnight (German time)…In addition members of the ensemble will send video messages from their domestic isolation. Every day before a recording is broadcast, we publish short readings, improvisations, stories or songs at 6 p.m."
"The Pee Wee Herman Show on Broadway" and "Lady Day at Emerson's Bar & Grill" would make for a very interesting double feature.
The 2013 Broadway "Romeo and Juliet" with Orlando Bloom and Condola Rashad is
hidden here along with "Jesus Christ Superstar Live" (I'll let others argue, etc.).
This free streaming service (with commercials) has the 1981 "Pippin" with Ben Vereen.  (And, violating my own rule of only-shot-from-the-stage, I'll mention that it also has the 2018 film version of "Hello Again" and a batch of documentaries on "The Fantasticks," "Hamilton," and more.)
There's an abundance of Shakespeare available here a la carte. Take a look at the Globe to Globe lineup, which includes a Korean production of "A Midsummer Night's Dream," a Macedonian "Henry VI, Part 3," and a "Love's Labour's Lost" in British sign language.
For a decade now, this Seattle-based hasn't just presented, but produced original video of stagework including experimental pieces from around the world. For example: "Songs at the End of the World" features a Dutch-Flemish group of actors/musicians exploring "dreams, choices and possibilities" in a musical piece set in Antarctica. Want to expand your horizons? Details here.  .
The network's "Culture in Quarantine" series has announced adding six productions to its lineup: "Macbeth" with Christopher Eccleston and Niamh Cusack, "Othello" with Hugh Quarshie in the title role and Lucian Msamati as Iago, "Romeo and Juliet" with Bally Gill as Romeo and Karen Fishwick as Juliet, "The Merchant of Venice" with Makram J Khoury as Shylock, "Much Ado About Nothing" with Edward Bennett as Benedick and Michelle Terry as Beatrice, and "Hamlet" with Paapa Essiedu in the title role. No word yet on when they will be posted.
Another international presenter/producer, Cennarium offers shows from the stages of Brazil, Italy, Spain, Argentina, and more.  I haven't explored the content yet but like this philosophy: "95% of large theatrical productions are restricted to major cities. The vast majority of the populations around the world do not have access to performing arts. Cennarium takes the greatest performing arts spectacles and performances from the world's main cultural capitals and makes them available to anyone, anytime, anywhere. Furthermore, we foster the international performing arts community by providing content to a wider audience." It's offering a free 10-day trial.
And allow me one that breaks my own "live theater" rule for one that's about theater. "Slings and Arrows," the outstanding Canadian series, is available for binge-ing. Acorn is offering a 30-day trial with code FREE30.
Know of more? Send me a note.