The new theater company founded by the former leader of the Phoenix Theatre will be taking his name.
Previously announced as River West Theatre Company, the newly christened Fonseca Theatre will be taking a deep dive into a full season for 2018/19.
The lineup includes:
"Building the Wall" by Robert Schenkkan.
This is the piece written on the eve of the 2016 election by the author of "All the Way" and "The Kentucky Cycle."
"Hooded, or Being Black for Dummies" by Tearrance Arvelle Chisholm
Like "Building the Wall," this one will be performed at Indy Convergence.
"The Ballad of Klook + Vinette" by Che Walker, music and lyrics by Anoushka Lucas and Omar Lyefook
The jazz-infused love story will be the theater's first musical–and the first in its permanent home.
"Miss You Like Hell" by Quiara Alegria Hudes with music and lyrics by Erin McKeown
A major score for the theater is this 2018 play that recent had an attention-getting run at New York's Public Theater. It concerns a road trip by a woman and her estranged teen daughter.
"Salt Pepper Ketchup" by Joshua Wilder
Gentrification and its complications are at the center of this new play set in South Philly.
"The Brothers Paranormal" by Prince Gomolvilas
Two Thai-American brothers in the ghost-hunting business investigate the home of an African-American couple.
There's also a TBA worked into Fonseca's busy schedule.
The innovative structure of the company includes four artistic directors working with Fonseca: Lakesha Lorene, Jordan Flores Schwartz, Dena Toler, and Ian Cruz.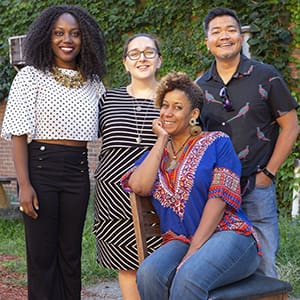 The mission of the new theater is to "give voice to the disenfranchised in our community. The sharing of culture is essential to our nation's health, and we will focus on work by and/or about minority artists to bring together the city's growing minority communities."
Here's hoping Central Indiana gives a warm welcome to these voices and to this new–and necessary-company.
More info here.